Toute l'information sur les évènements du projet Ouimet pour l'année 2017 sera disponible dans cette section.

Information on the events associated to the Ouimet  project for 2017 will be available in this sectiion.

Printemps 2017

Spring 2017

Signature de l'offre de service présesentée à l'ABVLACS par le CRE Laurentides.

An 2: Identifier un niveau d'eau socialement acceptable.

ABVLACS signs a contract with CRE Laurentides.

Year 2:   Identifiying a socially acceptable water level

12 mai 2017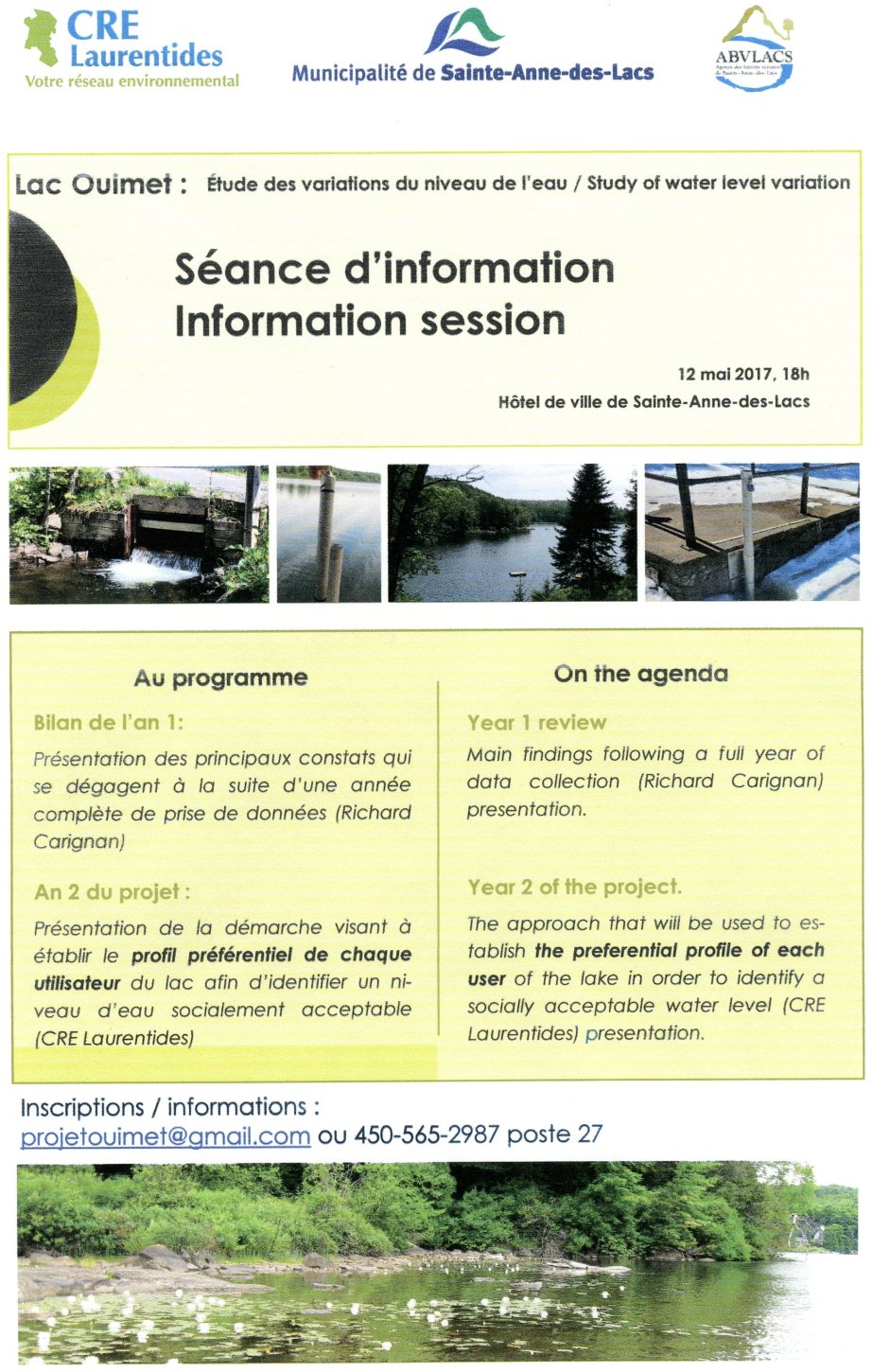 Volet Scientifique

Bilan de l'an 1

Scientific Component

Year 1 review

Rapport du Dr R. Carignan

Dr. R. Carignan's report.

​Le rapport en entier esr disponible en cliquant sur le lien adjacent.

Voici les conclusions du rapport,

The whole review  is available in french only.  The conclusions of the review have been translated.

​
Conclusions
Depuis au moins 1998, l'amplitude des niveaux observés annuellement au lac Ouimet semble démesurée par rapport à ce qui est observé dans d'autres lacs comparables de la région. L'érosion des berges et les apports en nutriments provoqués par ces importantes fluctuations pourraient contribuer à détériorer la qualité des habitats riverains et la qualité des eaux du lac. Un bref examen de la configuration de l'exutoire suggère que la combinaison des ponceaux et du barrage ne suffit pas à évacuer les crues printanières qui, dans la région, peuvent engendrer des débits spécifiques de pointe de l'ordre de 260 litres/seconde/km2 (figure 9). Plusieurs correctifs sont envisageables mais en particulier, les ponceaux secondaires très insuffisants installés en 2000 pourraient être remplacés par un ponceau évacuateur à section circulaire ou ovoïde capable de dévier environ 100 000 m3/jour durant les crues printanières sans causer une élévation trop importante du niveau. Cependant, l'élévation précise de ce nouveau ponceau et l'amplitude des variations de niveau devront préalablement être choisies après consultation avec tous les riverains du lac Ouimet.
​

Conclusions
Since at least 1998, the amplitude of levels observed annually at lake  Ouimet seems disproportionate to that observed in other comparable lakes in the region. Bank erosion and nutrient inputs caused by these large fluctuations could contribute to the deterioration of the quality of lakeside properties and the quality of the lake's waters. A brief review of the outflow configuration suggests that the combination of culverts and the dam is not sufficient to evacuate spring flood events that in the region may result in peak specific flows in the order of 260 liters / second / Km2 (Figure 9). Several corrective measures are possible, but in particular the very insufficient secondary culverts installed in 2000 could be replaced by an evacuating culvert with circular or ovoid cross section capable of deviating about 100,000 m3 / day during spring flooding without causing an excessive level rise. However, the precise elevation of this new culvert and the amplitude of the variations in level will have to be chosen after consultation with all the residents of Lake Ouimet
​

Social Component / CRE Laurentides

Volet Social / CRE Laurentides

Identifier un niveau d'eau socialement acceptable.

Identify a socially acceptable water level.

Identification du niveau d'eau socialement acceptable
Identify a socially  acceptable water level